For your next embedded-systems project or PC-based application, do you need:
Short development time ?
Low per-unit cost ?
Rapid prototyping ?
A custom driver, algorithm or system feature ?
We deliver custom system design and application programming services to industrial, corporate, and scientific organizations for projects involving, for example, embedded systems, high-speed data acquisition and analysis, exacting instrument control, networked PCs and microcontrollers, firmware for "one-off" hardware devices, and other challenging requirements. In addition, we can provide training for your staff while we complete your project.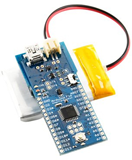 Our services include:
Embedded systems design & prototyping (8/16/32 bit based microcontroller with integrating to other electronic components, microprocessor hardware/firmware/software)
Designing & prototyping electronic circuits and products as per customer specifications
Complete electronic product design from concept to completion (turnkey projects)
Re-engineering services to correct flaws or to optimize existing designs for lowering costs
Vcrest can work on design projects both big or small for large industries or small businesses & individual
Call us today to get an evaluation of your custom prototype needs.

Please email [email protected] or call 65-6552-2248 for more information.